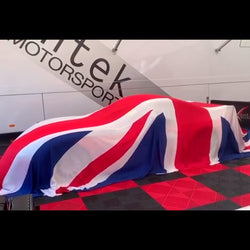 AirShroud
Union Jack Reveal Indoor Car Cover for Aston Martin, Bentley, Lotus & McLaren From
Do you want a special indoor reveal cover to reveal British cars manufactured by Aston Martin, Bentley, Jaguar, Land Rover, McLaren, Mini, Lotus, Lagonda, Rolls-Royce Mini, MG, and Morgan? Then we have just the design for you. This design features the Union Jack. This product does NOT come supplied with the remote control AirShroud reveal system.
The lead time is 3-4 weeks upon receipt of payment. For reference:
Small: Recommended for the supercars.
Medium: Recommended for Bentley Continental GT
Large: Recommended for SUVs like the Bentley Bentayga, Bentley Flying Spur, Jaguar E-Pace, Jaguar F-Pace, Range Rover Sport, Range Rover Evoque
Extra Large: Recommended for Rolls Royce, Bentley Mulsanne, Range Rover, Land Rover Discovery, Land Rover Defender
This indoor car cover is specialised - it is also made from an exclusively formulated synthetic fabric that's coated with the Teflon™ Fabric Protector Shield that gives it water-resistant properties and stain-proof and dirt-proof properties. Looks dirty? Just give it a clean with warm soapy water and blow dry it and it will look as good as new. So it will last long. It's also incredibly light, thin and silky-soft to the touch. It is compatible with our AirShroud Reveal System.