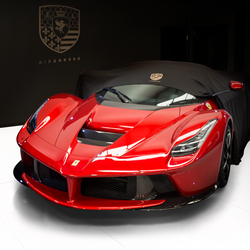 AirShroud
Black Indoor Reveal Car Cover only
Our vehicle reveal covers add sophistication to any dealership or launch event. Our reveal car covers are made from an exclusively formulated synthetic fabric to mimic silk, it's incredibly light, thin and silky-soft to the touch. It feels as if you are shrouding it in air. It also adds an air of sophistication and mystery to the object underneath. In addition, the covers give good dust protection while awaiting delivery. This product does NOT come supplied with the remote control AirShroud reveal system. Compatible with our AirShroud remote control system.
Our covers can be used to reveal a range of different sized cars, from supercars like the Ferarri 488 GTB, Lamborghini Huracan, Lamborghini Aventador, Porsche 718, McLaren 720S, up to a Land Rover Range Rover and small to medium-sized vans. If in doubt regarding which size cover is right for you, please send us an enquiry. For reference:
Small: Recommended for the supercars.
Medium: Recommended for Bentley Continental GT
Large: Recommended for SUVs like the Bentley Bentayga, Bentley Flying Spur, Jaguar E-Pace, Jaguar F-Pace, Range Rover Sport, Range Rover Evoque.
Extra Large: Recommended for Rolls Royce, Bentley Mulsanne, Range Rover, Land Rover Discovery, Land Rover Defender.